Back
Charlotte Cornaton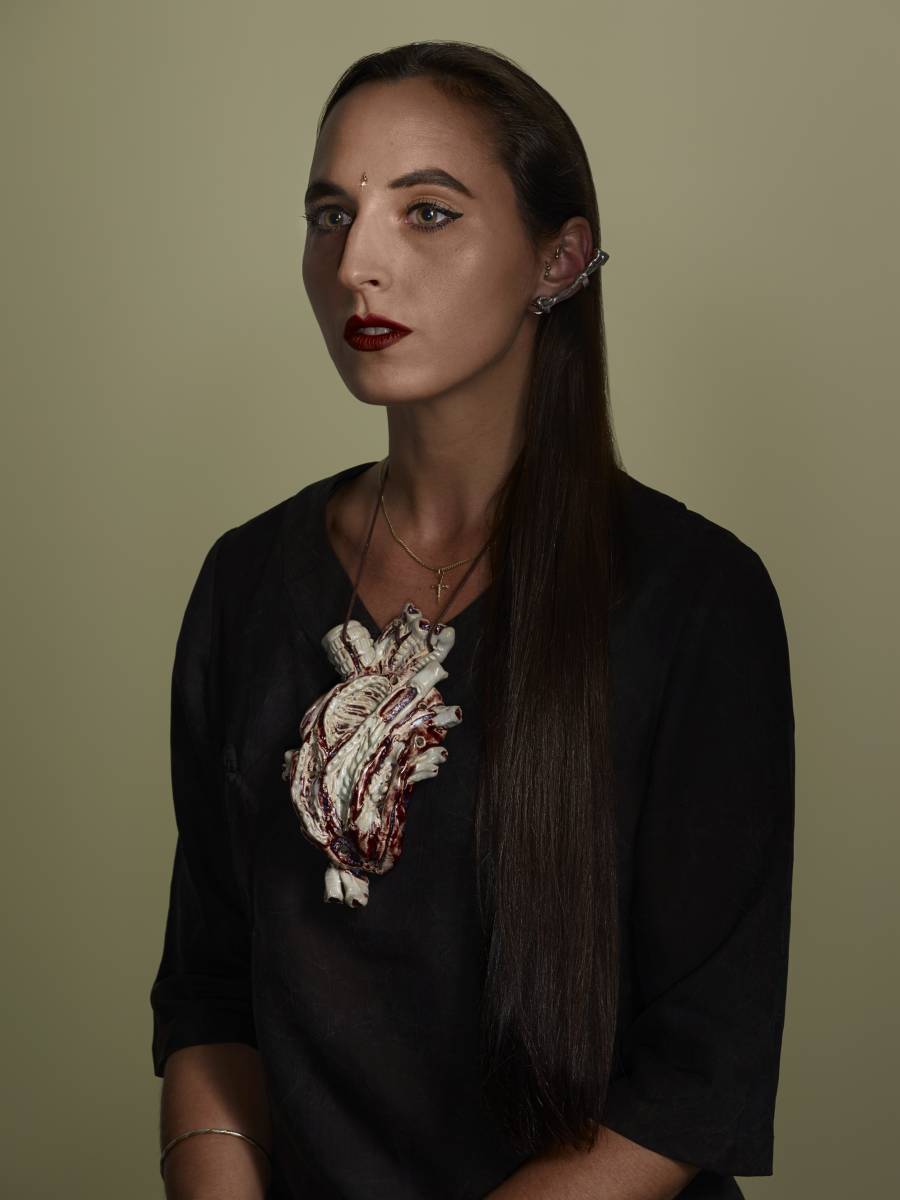 Born in Paris in 1986, Charlotte Cornaton was trained in the art of ceramics at the Central Saint Martins School in London in 2008 where she was mentored by Anthony Quinn. In 2009, she graduated top of her class from the École supérieure d'arts graphiques (Esag) Penninghen in Paris.

'INSOMNIO' is a collection of sculptural porcelain books inspired by the artist's oniric life and its symbolism using Jung dream interpretation. Presented on patinated steel lecterns, lit by hidden LEDs, these porcelain books were each handmade by Charlotte Cornaton during her residency at the famous historic workshops of Jingdezhen, China. The artist used the three main ancestral Chinese techniques of incised porcelain: celadon glaze, a porcelain engraving skill; cobalt calligraphy, a porcelain painting method; and cloisonné glaze. The collection includes table and wall lighting pieces with dimmers. ''INSOMNIO is the library of my nightmares and their symbolism. Each book refers to a specific oniric moment using Jung dream interpretation.'' 'INSOMNIO' thus uses Oriental know-how to express the artist's Western form of thought, incarnating the exchange and symbiosis of cultures.

'CHAKRAS' are glass and ceramic sculptures that resemble natural crystals and minerals. In Hindu traditions, chakras are believed to be the meeting points of the energy channels in the metaphysical body. Each 'CHAKRA' sculpture refers to a mineral linked to one of these energy points, translating the artist's passion for the body in a spiritual context. Honed with acute precision, these sculptures are open fragments of reality that nevertheless remain enigmatic, as if they were apparitions from the realm of hallucination.

Visual artist and video maker, Charlotte Cornaton works in a transcultural spirit through video and ceramics to address social issues such as contemporary vanitas, criticism of appearances or femininity. These two media, one ancestral and the other contemporary, are fused in Charlotte Cornaton's work. Sculptural porcelain costumes can be worn during a filmed performance, or ceramic can be animated in stop motion. Since 2010, Charlotte Cornaton annually participes in the 'Chambres à Part' group exhibition curated by Laurence Dreyfus as part of the private Fiac itinerary. In 2012, during her residency at the European Ceramics Work Centre (EKWC) at S'Hertogenbosch in the Netherlands, she produced 'Corpus Femina,' a project involving three ceramic costumes about femininity. 'Corpus Femina' was presented in the Musée Magnelli for the XXIIIrd "Biennale internationale de la céramique et création contemporaine" in Vallauris, France in July-November 2014.
Née à Paris en 1986, Charlotte Cornaton suit une formation en céramique en 2008 à la Central Saint Martins School de Londres sous le tutorat d'Anthony Quinn, puis est diplômée en 2009 de l'École supérieure d'arts graphiques (Esag) Penninghen à Paris dont elle sort Major de sa promotion.

'INSOMNIO' est une collection de livres sculptures en porcelaine inspirés par la vie onirique de l'artiste et ses symboles à partir de l'interprétation des rêves de Jung. Présentés sur des pupitres d'acier patiné, éclairés de Leds dissimulés, ces livres de porcelaine ont chacun été réalisés à la main par Charlotte Cornaton lors de sa résidence d'artiste dans les fameux ateliers historiques de Jingdezhen en Chine. L'artiste a utilisé les trois principales techniques ancestrales chinoises : l'émail céladon, gravure sur porcelaine ; la calligraphie au cobalt, émail sur porcelaine ; et l'émail cloisonné. La collection comprend des pièces murales et de table dotées d'un variateur de lumière. « INSOMNIO est la bibliothèque de mes cauchemars et de leurs symboles, explique l'artiste. Chaque livre renvoie à un moment spécifique de ma vie onirique à partir de l'interprétation des rêves de Jung. » 'INSOMNIO' met ainsi en oeuvre des techniques orientales pour exprimer une pensée occidentale, dans une démarche d'échange et de symbiose des cultures.

Les 'CHAKRAS' sont des sculptures en verre et céramique qui ont l'apparence de cristaux et de minéraux naturels. Dans les traditions hindoues, les chakras sont considérés comme les points de rencontre des canaux énergétiques du corps métaphysique. Chaque 'CHAKRA' se réfère ainsi à un minéral lié à un de ces points d'énergie, traduisant l'intérêt de l'artiste pour le corps inscrit dans un contexte spirituel. Ciselées avec une précision extrême, ces sculptures sont des fragments ouverts de réalité qui restent malgré tout énigmatiques, des apparitions de l'ordre de l'hallucination.

Plasticienne et vidéaste, Charlotte Cornaton travaille dans un esprit trans-culturel sur des thèmes de société tels que les vanités contemporaines, la critique des apparences ou la féminité, via les médiums vidéo et céramique. Ces deux mediums – l'un ancestral, l'autre contemporain – entrent ainsi en résonance dans son œuvre. Des costumes sculptures en porcelaine peuvent être portés lors d'une performance filmée, ou des céramiques animées en stop motion. Depuis 2010, Charlotte Cornaton participe chaque année à l'exposition collective « Chambres à Part » organisée par Laurence Dreyfus dans le cadre du parcours privé de la Fiac. En 2012, elle produit 'Corpus Femina', ensemble de trois costumes sur la féminité en céramique, lors de sa résidence au Centre Européen de la Céramique (EKWC) à S'Hertogenbosch aux Pays-Bas. 'Corpus Femina' est présenté au Musée Magnelli dans le cadre de la XXIIIe « Biennale internationale de la céramique et création contemporaine » de Vallauris, en juillet-novembre 2014.
Galerie BSL – www.galeriebsl.com