Back
Taher Chemirik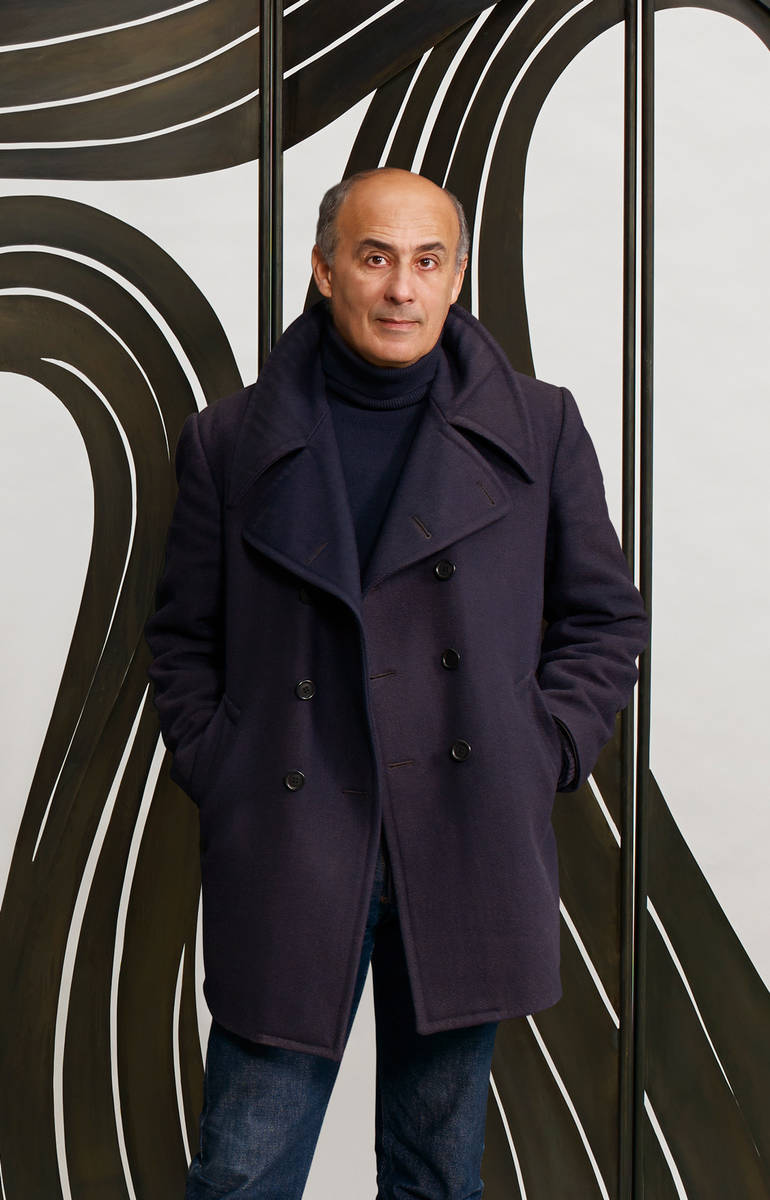 As a jewelry artist, Taher Chemirik's personal approach to sculptural lighting and furniture art places his work in a singular dimension of its own in contemporary creation. Each of his creations takes on the beauty of a sculpture, at once dense and sensual, refined and dramatic, and joins contemporary strength with the fine workmanship of the decorative arts.

His 'BIJOUX D'INTÉRIEUR' are handcrafted in noble, timeless materials such as brass, copper, rare hard stones – and more recently, terracotta. Taher Chemirik's love of nature and his personal vision of the world inspire him in the creation of sculptural and functional works that are both poetic and structured, lyrical and architectural, flamboyant and balanced. In 2014, his oxidized steel folding screen 'Calligraphie II' joined the permanent collections of the Museum of Arts and Design in New York, sealing his reputation as a designer and poet of the object.

Jewelry artist Taher Chemirik was born in Algeria in 1955. He is a graduate of ENSAD – École Nationale Supérieure des Arts Décoratifs de Paris. Since 1990, he has collaborated with some of the most prestigious fashion houses, including Chloé, Chanel, Hermès, Balenciaga, Yves Saint Laurent and Roger Vivier. In 2007, Chemirik was named by Time Magazine as one of the world's most influential designers for his eponymous line of high-end jewelry featuring oversized links, drop-shaped petals and ebony wood. Three of his jewelry pieces are included in the permanent collections of the Musée des Arts Décoratifs in Paris.
En tant qu'artiste joaillier, l'approche personnelle de Taher Chemirik appliquée aux luminaires sculpturaux et aux pièces d'art mobilier place son travail dans une dimension singulière qui lui est propre dans la création contemporaine. Chacune de ses créations revêt la beauté d'une sculpture, à la fois dense et sensuelle, raffinée et spectaculaire, et concilie la force contemporaine avec le bel ouvrage des arts décoratifs.

Ses 'BIJOUX D'INTÉRIEUR' sont réalisés à la main dans des matériaux nobles et intemporels tels le laiton, le cuivre, les pierres dures rares – et plus récemment, la terre cuite. L'amour de Taher Chemirik pour la nature et sa vision personnelle du monde l'inspirent dans la création d'œuvres sculpturales et fonctionnelles qui sont à la fois poétiques et structurées, lyriques et architecturées, flamboyantes et équilibrées. En 2014, son paravent en acier oxydé 'Calligraphie II' rejoignait les collections permanentes du Museum of Arts and Design de New York, scellant sa renommée comme designer et poète de l'objet.

Artiste joaillier, né en 1955 en Algérie, Taher Chemirik est diplômé de l'ENSAD – École Nationale Supérieure des Arts Décoratifs de Paris. Depuis 1990, il a collaboré avec des maisons de mode parmi les plus prestigieuses, telles Chloé, Chanel, Hermès, Balenciaga, Chanel, Yves Saint Laurent et Roger Vivier. En 2007, Chemirik est nommé par Time Magazine comme l'un des créateurs les plus influents au monde pour sa ligne éponyme de bijoux haut de gamme, composée de maillons surdimensionnés, de pétales en forme de gouttes et de bois d'ébène. Trois de ses bijoux font partie des collections permanentes du Musée des Arts Décoratifs de Paris.