Back
Charles Kalpakian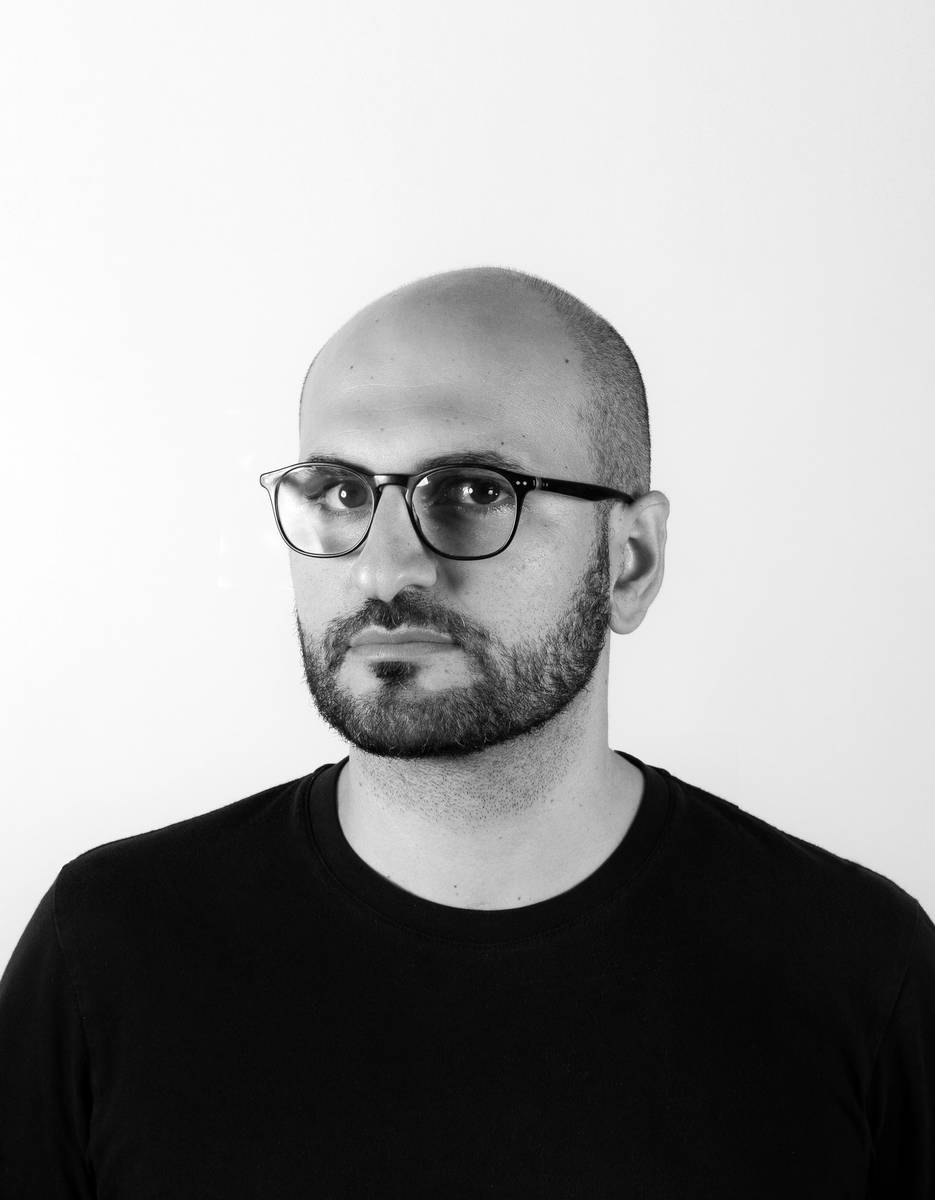 Charles Kalpakian's design has three roots: France, Lebanon where he was born in 1982, and the Street Art culture. These influences take shape through the reinterpretation of motifs from the decorative arts, filtered by a resolute urban and contemporary culture. The stroke is always clean, even if the gesture resembles calligraphy in space.

'CINÉTISME' is a collection of hypnotic wall cabinets in lacquered wood. Unexpected and immediately eye-catching in the true sense of the word, these cabinets establish themselves as true functional paintings. While capturing the viewer's gaze, they can be used to welcome books and showcase small objects. Here Charles Kalpakian explores the scientific phenomenon of bistability applied to furniture, or how to shock our brain pathways with an ambiguous image which changes our perspective: an outstanding series which flirts with the spirit of Vasarely, and an audacious encounter between science, Street Art and Op art. The modularity of the collection allows custom made compositions, potentially covering large walls, and making each piece all the more unique.

'CLÉ DE SOL' is the name of sculptural works inspired by the calligraphy of sheet music and produced entirely in brushed brass. In the 'CLÉ DE SOL' sconces and wall lights, the classic G Clef shape is transformed into a contemporary, 21st century work of collectible design. In the 'CLÉ DE SOL' chandelier, five G Clefs descend and swirl on a 2,40 meter music score. The brass curls are like notes on a page, dancing in fluid patterns along the metal and floating as if to defy gravity.

'MOON' armchair is a contemporary reinterpretation of some major classics from the 50's. Its very high back and unusual width and depth make it particularly welcoming and comfortable. Soft, pure yet flexible lines in a clean movement are enhanced by the contrast of colors. The armrest is imagined like a woven jewel and is the final touch, completing the attire.

'ÉCRITOIRE' is a true gem, resounding in its elegance, simplicity, graphic unity and the complementarity of materials. Curves and straight lines fuse in an organic geometry. The glow of the brushed brass harmonizes with the black lacquered wood top. The three drawers are made of ebonized oak. This cultivated piece of furniture is like a bridge between design and the decorative arts.

Charles Kalpakian was born in Beirut, Lebanon, in 1982. He lives and works in France. After a ten year collaboration with prestigious design agencies including Ora Ito's and Christophe Pillet's, in 2011 he became a freelance designer, with clients such as Bespoke Edition, Habitat, Nemo, La Chance, Collection Particulière, Christophe Delcourt, Haymann Editions.
Le design de Charles Kalpakian a trois racines : la France, le Liban où il est né en 1982, et la culture du Street Art. Ces influences prennent pour forme la réinterprétation de motifs issus de l'histoire des arts décoratifs et de motifs iconiques libanais, passés au filtre d'une culture résolument urbaine et contemporaine. Le trait est toujours net, même si le geste s'apparente parfois à une calligraphie dans l'espace.

'CINÉTISME' est une collection de cabinets muraux hypnotiques en bois laqué. Inattendus et immédiatement « eye-catching » au sens propre du terme, ces cabinets s'imposent comme des peintures fonctionnelles. Tout en retenant le regard, elles peuvent être utilisées pour accueillir des livres et de petits objets. Ici Charles Kalpakian explore le phénomène scientifique de la bistabilité appliqué au mobilier, ou comment affoler nos connexions cérébrales avec une image ambiguë qui vient recomposer les perspectives. La rencontre audacieuse de la science, du Street Art et de l'Op'art pour une collection hors normes qui vient flirter avec l'esprit de Vasarely. La modularité de la collection permet des compositions sur mesure pour de larges surfaces murales, rendant chaque pièce d'autant plus unique.

'CLÉ DE SOL' est le nom de pièces sculpturales inspirées par la calligraphie des partitions musicales et produites entièrement en laiton brossé. Dans les appliques 'CLÉ DE SOL', la forme classique de la clé de sol est transformée en une œuvre de design de collection résolument ancrée dans le 21ème siècle. Dans le lustre 'CLÉ DE SOL', cinq clés de sol s'enroulent et se déroulent sur une longueur de 2,40 m comme sur une portée de musique. Les boucles en laiton s'envisagent comme des notes sur une page. Leurs formes fluides dansent sur le métal et flottent comme si elles défiaient la gravité.

Le fauteuil 'MOON' propose une réinterprétation contemporaine de grands classiques des années 50. Sa hauteur de dos, tout comme sa largeur et sa profondeur inhabituelles, le rendent particulièrement accueillant et confortable. Le geste est net ; les lignes douces, souples et pures sont soulignées par le contraste des couleurs. L'accoudoir est pensé comme un bijou tissé et vient apposer une touche finale dans l'esprit d'une parure.

'ÉCRITOIRE' est un bureau bijou, simple dans son élégance, l'unité de son graphisme et la complémentarité de ses matériaux. Lignes courbes et lignes droites fusionnent dans une géométrie organique cependant que l'éclat du laiton brossé s'harmonise avec le noir du plateau laqué. Les trois tiroirs sont en chêne ébonisé. Une pièce de mobilier cultivée, comme un pont jeté entre le design et les arts décoratifs.

Charles Kalpakian est né à Beyrouth, Liban, en 1982. Il vit et travaille en France. Après avoir collaboré pendant une dizaine d'années avec de prestigieuses agences de design, telles celles de Ora Ito et Christophe Pillet, il travaille depuis 2011 comme designer indépendant. Son travail est édité notamment par Bespoke Edition, Habitat, Nemo, La Chance, Collection Particulière, Christophe Delcourt, Haymann Editions.